Looking for a sacred, beautiful, friendly and eco-conscious venue to host your next retreat?
Look no further!
We offer affordable rates, and an incredibly unique experience.

Mystical Yoga Farm is a magical, sacred and unique space to hold your transformational retreat! We are completely off-grid, solar powered, zero waste, and have sustainability incorporated into every aspect. With art infused into every corner, and acoustic medicine music played all-around, this space is sure to inspire all who come. We are also a nomadic live-in community with a rotating crew of amazing volunteers and global staff that live, work and pray here. By hosting a retreat here, you and your group become a part of this wonderful community with loving arms! 
We would be honored to host your retreat!
With a myriad of wonderful amenities to offer, we think you'll find the Mystical Yoga Farm to be a truly magical and unforgettable venue for your group.
Send us a message!
Affordable and comfortable accommodations
With 19 comfortably appointed guest rooms providing capacity for up to 40 guests.
We offer shared accommodations at a daily rate of $65 per person, and private accommodations for $80 per person. (See our Accommodations page for more info on our lodging spaces.)
Please inquire via the contact form below to receive a copy of our retreat contract with more details!
We offer retreat packages for 7 to 11 participants, 12 to 16 participants, or you can book the whole farm at 20 to 30 participants.
3 group studios (for yoga or other classes)
Sound healing 'Om Dome' with Crystal Singing Bowls
The Om dOme was intentionally crafted into the perfect geometric shape for amplification of sound waves and love. From crystal singing bowls to chimes and drums, the Om dOMe is our sacred space for guided meditation, sound healing and shamanic drum journeying.
Tea House comfortably seats up to 20 people
Perfect for tea ceremony, silent meditation, poetry, philosophy, sharing circles, meetings, reading, etc. Comes fully equipped with all teaware. Nestled and tucked away as a great group space or private little getaway
Sacred Fire Circle
Amazingly designed sacred space for prayer, ceremony, singing, offerings, and gatherings of all kinds. Comfortably seats 25 in one inner circle, though it can fit up to 80 people when using the upper levels. 1 included in retreat price, option to add more for additional fee. MYF staff can lead a fire ceremony (optional cacao) catered to your retreat offering, at a small additional cost.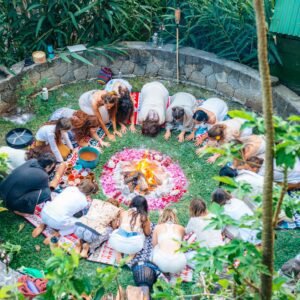 Traditional Mayan Sauna
A beautiful healing space for cleansing. Traditional steam sauna where the fire is heated in the back, and inside you add water for the steam. Silence, singing, chanting, praying are all welcome. No talking inside. Comfortably seats 14 at a time. Clothing optional. 1 included in retreat price, option to add more for small fee.
2 Private Docks
With lake access for swimming, paddle boarding, kayaks, tanning, and more. Also a great place for group activities, water blessings, morning (sunrise) meditations, and other workshops. Clothing optional.
Vegan Kitchen
All packages include 3 delicious vegan meals each day, as well as unlimited beverage service of organic teas and purified water. Our food is home grown (or locally sourced) and organic wherever possible. It is the absolute BEST tasting, super healthy and nutricious plant-based meals possible. For more info and sample menus check our "vegan kitchen" page. 
Our kitchen is able to accommodate most special diets with enough notice. This includes gluten free, nut allergies, 0 carbs, etc. 
Special Services
In addition to the many amenities the farm has to offer, we have a number of special services* you can book to customize your retreat. Some of the services we offer include:
?? Traditional Temezcal (Mayan sauna) with 4 rounds and singing ceremonial chants. Guiding an experience.
?? Cacao Ceremony (can be a variety of activities based on your group needs and flow of your container.)
??  Song Circle / Kirtan
?? Sound Healing Ceremony
?? Shamanic Healing
?? Plant Medicine Ceremony (reach out to see which plants we offer.)
?? Tea Ceremony / Tea Party
?? Ecstatic Dance / Dance Party
?? Yoga/Spiritual Programs
?? Sustainability/Permaculture
?? Workshops
?? Evening Satsang/Fire ceremonies
?? Volcano Hikes
?? Village Tours / Local Market
?? Shopping Excursions
?? Angel Walk (Love Tunnel)
?? Authentic Relating
?? Breathwork Sessions
?? Shamanic Journey
✨ Some services offered at an additional cost. Please inquire for more info. ✨