HeartSong Gathering
February 12th – 19th, 2024
Join us in Lake Atitlan, Guatemala! We are accepting applications now for the Cacao Source's Training! We will create a container for you to explore your own gifts and how you can bring them into Cacao circles wherever you go in life. We will share the secrets of Cacao– everything from where it comes from to how it is processed into a beautiful, heart-opening medicine. You will have the opportunity to connect more deeply to Cacao, yourself, and a community of Cacao lovers.
Learning Curriculum
❤️‍You will learn about the history, cultural & environmental aspects of Cacao in order to feel confident sharing your knowledge with friends & community.
Practical Experiences
✨ You will visit 2 of Cacao Source's farms and connect with the origins of the medicine. You will experience a variety of Cacao ceremonies and discover cultural & environmental aspects of cacao.
Community & Activities
✨Enjoy daily yoga, evening fires, solitude time on the Lake & much more!
✨Discover Santiago famous Mayan market.
✨Connect with the Cacao Source core team, and 15 other participants.
Food & Accomodation
Spend 7 days living on Lake Atitlan, Guatemala at the Mystical Yoga Farm– a peaceful and communal environment. It includes 3 delicious vegetarian meals a day.
How Much:
$1,250/camping
$1,350/Shared Room
$1,450/Private Room
* The price does not include flights, transport to the lake (including boat from San Marcos/San Pedro to Mystical Yoga farm) and personal purchase at Santiago Market.
We invite Mayan wisdom keepers to spend two days with us in order to share a fire ceremony and Mayan culture.
Medicine
There's a science behind Cacao and a complexity in the medicine itself. Explore the functionality of Cacao and how to maintain it's physical benefits.
Social Business Design
Share Cacao with an ethical business system that allows you to give back and respect the hands that produce the Cacao.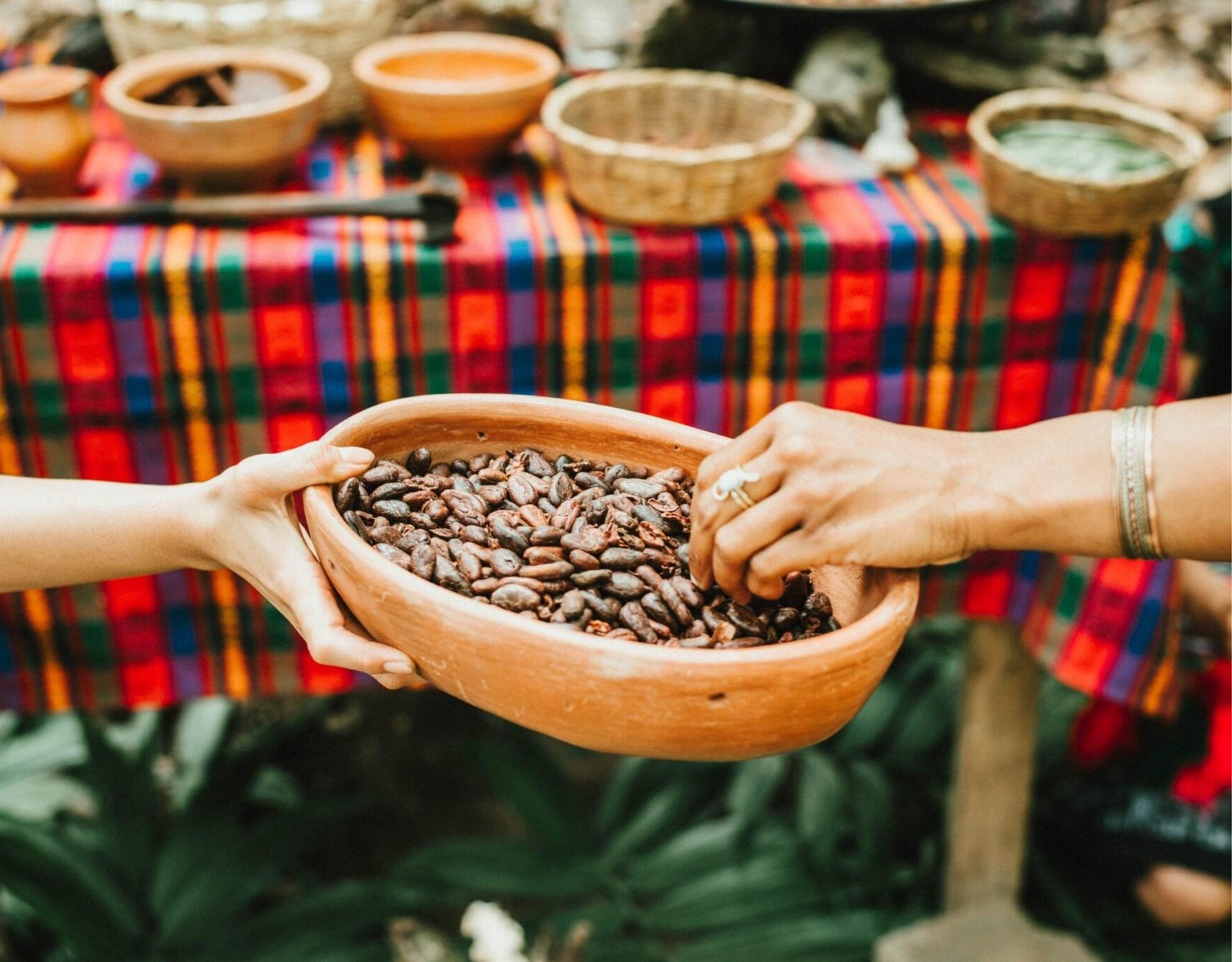 History
Honor Cacao by understanding its history and the complexity of its path until it arrived in your hands.
Ecology
Cacao in an agroforestry system is medicine for nature. Dive deeper to understand the functionality of Cacao in the forest and a tool for regeneration.